Member offers
"Summer Holiday ReadsTH Publications is offering a choice of 4 autobiographies to Chester Business Network members with an exclusive 25% discount on RRP and P&P included. One football, one rugby league, one crime and one boxing, including a limited supply of signed copies of Herol 'Bomber' Graham's book. Visit www.thmedia.co.uk for reviews and contact stuart@thmedia.co.uk to order."
Stuart Wilkin, TH Media
"Great Bear are National Warehouse and Distribution Company with 30 locations across the UK, 4.5m sq. ft space, and over 200 commercial vehicles specialising in many sectors eg.FMCG International Food and Drink, Pharmaceutical, Sportswear, Clothing, Automotive, Wines and Spirits Beers and Cider markets, Industrial and Retail sectors.Michael Pepper would be pleased to hear from interested parties requiring Logistical solutions, be they warehousing, transport added value co packing, short term projects to longer term. To discuss individual projects please contact Michael on either HQ. Office Chester 01829 772200 or mobile 07739 610201 e mail michaelpepper@great-bear.co.uk also see www.greatbear.co.uk"
Michael Pepper, Great Bear Distribution Ltd
"Quality, fresh and regular content is key to online success. One free blog/news piece* written in and around your industry, to publish on your site from Engage Web's writing team and journalist-trained editors. Ask for Lianne and quote CHESTERBIZ (*written according to pre-agreed editorial brief tbc)August & September Only. Get 2 years' web hosting for the price of 1 when you move your site to Engage Web. Ask for Lianne and quote CHESTERBIZ"
Lianne Wilkinson, Engage Web
"Clarity Virtual would like to offer members of The business Network the opportunity to try our virtual services:-Clarity Virtual PA – Receive 50% off your first 5 hours of PA assistance which includes anything from general administration to marketing support."
Ceridwen Hughes, Clarity PA
"We are offering all members a FREE 'Digital Marketing Healthcheck'If generating new business is important to you in 2018, then having a fresh pair of eyes to review your digital strategy and make recommendations to help you achieve your objectives will add real value to your business."
Claire Treloar, Ultimate Creative Communications
"Remember,"Feel Great Friday!"...Book in for a personal development session with Olivia for the last Friday in the month, and she'll waive her fees - and instead, she'll simply ask you to make a donation to the charity of her choice, The Moebius Trust.Olivia is happy to offer coaching sessions over the phone or Skype also."
Olivia Stefanino, Be your own Guru Ltd
"Love it or loathe it, auto enrolment is just around the corner for many of us and will clearly have an impact on business. To help you understand your obligations and help you prepare for your "staging date" Phil Illingworth of PWM Wealth Management is offering members a free auto enrolment audit."
Phil Illingworth, Illingworth Seddon Chartered Financial Planners
"Video is now one of the fastest growing marketing formats.If you would like to showcase your business, products or service with a professionally produced video then do call us.Any filming or video editing requirement booked by members will receive a 10% discount."
Richard Knew, Knew Productions Ltd
"The Difference is JustSeed for all your seed requirements: special introductory offer to our new e-shop www.justseed.com.10% off your first order enter the code FTO116"
Susan Black, Just Seed Limited
"If you are a land or property owner, a developer or a large or small business –and want to maximise the value of your land and buildings, or obtain planning permission for your development proposals, we are offering a FREE initial discussion about your proposals and aspirations and how to achieve them. Call us on 07718 277925 or 0161 442 8391"
Chrissie Gibson, Connectivity Associates
"2 Weeks free trial of our Telephone Answering Service for Members (usually 1 week)"
Peter Belton, Call Miss Jones Ltd
"Our standard recruitment fee for permanent positions is 12% of the annual salary, we offer a reduced fee of 10% to all members"
Louise Wilson, Brighter Choices Ltd
"Free Business Energy Costs Audit - Find out if youâre paying too much for your business energy. We can provide a straight-forward analysis and contract comparison to help you make the right decisions for your business energy needs. All we require is a copy of an invoice."
Gavin Jones, Innovative Energy Consultancy
"10% discount (to all Business Network members nationally) on the Ofqual qualification Level 3 Certificate in investigative interviewing , available in either the 25hr blended on line/classroom at academy.intersolglobal.com aimed at individuals /companies (£95 off the £995 price ) or 4 day in house course aimed at groups of 8 (£125 off the £1250 price)contact: info@intersolglobal.com and quotes BNPROMO "
Mick Confrey, Intersol Global
"10% Discount on all rates to all Business Network members. loyalty card scheme and road mile club coming soon!"
Malcolm Horn, Cheshire Chauffeur
"We'll pay your mobile phone bill for 2 months!'If you have 5 or more handsets and move your Business Mobile Phones to Check Comms, we'll pay the bill for the first two months of your new contract.Open to all Business Network Customers nationwide. Offer available on selected business tariffs. We'll pay your standard line rental, excluding any overspend or additional bolt-ons. Other Terms and Conditions may apply."
Rob Wellings, Check Group Ltd
"Two hour free consultation for members (normal offer one hour).Services offered include: providing strategic and practical advice on development issues, preparing and submitting planning applications, handling appeals and promoting sites for allocation in local planning documents.Showing people how best to use the planning system to achieve their aspirations."
Adrian Thompson, Lightwater TPC
"tony.mills@signsexpress.co.uk"
Tony Mills, Signs Express
"a free audit of Gas and Electricity. All I need is sight of a bill.Also, with Water being de-regulated as of 1st April, a Water audit will be completed if you send me a Water bill."
David Cramp, Power Solutions UK Limited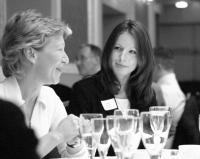 Come and join us at
OUR NEXT EVENT
Thursday 17th May
The Chester Grosvenor 12 Noon - 2pm
What members and guests say
"Why consider Business Network? Well Tracy and Hayley are great.They go out of their way to know everyone and to help them. The total focus is on helping to introduce you to the right people in a very informal manner.There are no pressures, just simply getting to know like minded people in a nice environment and the outcome is that you make friends with people youcan help or they can help you. I love it !!"
Adrian Lomas
Blueleaf
"As a founder member of the Chester Business Network, Fox Graphics have enjoyed being involved with the first year of this exciting network; where we have developed business contacts with professional quality decision makers from companies of a high calibre.We had no hesitation renewing and wish Tracy and Hayley all the best and good wishes in the future development of this venture and look forward to an exciting second year.Like a fine wine, it just gets better and better with time!"
Kate Fox
Fox Graphics